Do you constantly have these questions that just keep popping up in your mind ? Like, they never seem to leave you alone?
How to choose a web designer?
How will I ensure that I don't get fooled again?
If yes, don't worry.
I was in a similar position back in 2014 when I started my web design agency.
It was challenging enough to scout like-minded and result-driven professionals.
I would like to have the liberty to assume you are here because of any of the following two intentions:
Fed up with inexperienced web designers, liars, and not-so-serious "hard-working" web designers and want some real help
Need to understand and learn about the process and know-how to choose a web designer
Well… there could be a third.
You might just want to verify your knowledge and understanding so that you can gain that confidence.
Regardless, I will try to cover all aspects that would help you in choosing a web designer or maybe choosing a web design company.
But, before, I would like to explain who exactly is a web designer.
Who are web designers?
The terms web designers and developers are often used interchangeably. I would like to assume you want someone who will both design and develop your website for you. If so, continue reading.
Web designers are professionals who create, edit and update websites and webpages by combining visual design elements such as images, text, videos, graphics, and animations.
Ever wondered why Louis Vuitton's site looks so elegant, responsive, and functional? It's due to their meticulous attention to UX design, prioritizing rich content, user interaction, and seamless navigation, thereby enhancing the online luxury shopping experience.
Not just that, I also found some other cool sites such as Hyer, Swab the World, Andy Warhol's website, and many more. These should be enough to give you a good idea of what web designers do and help you understand who they are.
In layman's language, a web designer is like an artist who creates beautiful and functional websites. They use their creativity and computer skills to design a website's layout, colors, and images. They also make sure that the website is easy to use and navigate so that people like you can enjoy it without any trouble.
What they do, in a nutshell
Just like how you need a blueprint to build a house, a web designer also needs a plan to create a website.
They work closely with the people who want the website, eg, a business owner like you, to ensure that everything they create is exactly what the you want.
Web designers also know how to make websites work on different devices, like your computer, tablet, or phone.
They make sure that the website looks great and works well no matter what device you're using.
It is commonly known as responsive web design, where the site is created in a manner that works on different devices with different screen sizes.
What are the different types of web designers?
I personally seem to find no fitting definition for this. Nor is there an official definition for them. So, I'll share what I feel is an ideal thought. When we refer to web designers, it can possibly be any of the 2:
The "all-rounder" or "generalist"
Here, a single person takes care of the entire web design process, from development to design to content.
The positives here could be a cost-friendly approach and not having to deal with multiple individuals. And also, faster TAT, at times.
However, there are some drawbacks as well.
They are not experts in every aspect of web design and development, which means they may do an average or even less-than-average job on most aspects of web design and development, even if they specialize in one of the areas.
This indirectly leads to low-quality work, which may give rise to issues that they might not be able to answer or solve.
In some cases, they might even use templates to build your website.
A downside is most template-based sites don't use proper codes.
They leverage a framework known as the "visual builder" which basically speeds up the process but at the cost of quality and long-term viability.
A team of "specialists"
In this case, the work gets divided among professionals (cum specialists) from various fields.
So, you'll have a web developer, a designer, a copywriter, and a project manager taking care of the entire operations and website layout and structure.
Here's the good part.
A team will always bring a diverse range of skills to the table. Rest assured that each element of your project receives the attention and expertise it requires.
So, when a copywriter works on a project, their entire focus is on churning out engaging, value-adding and relevant content.
The same goes for a designer, who can work on the images, animations, or graphics, and a developer, who can focus on the back-end part, coding, bugs, or any other stuff.
Questions you need to ask yourself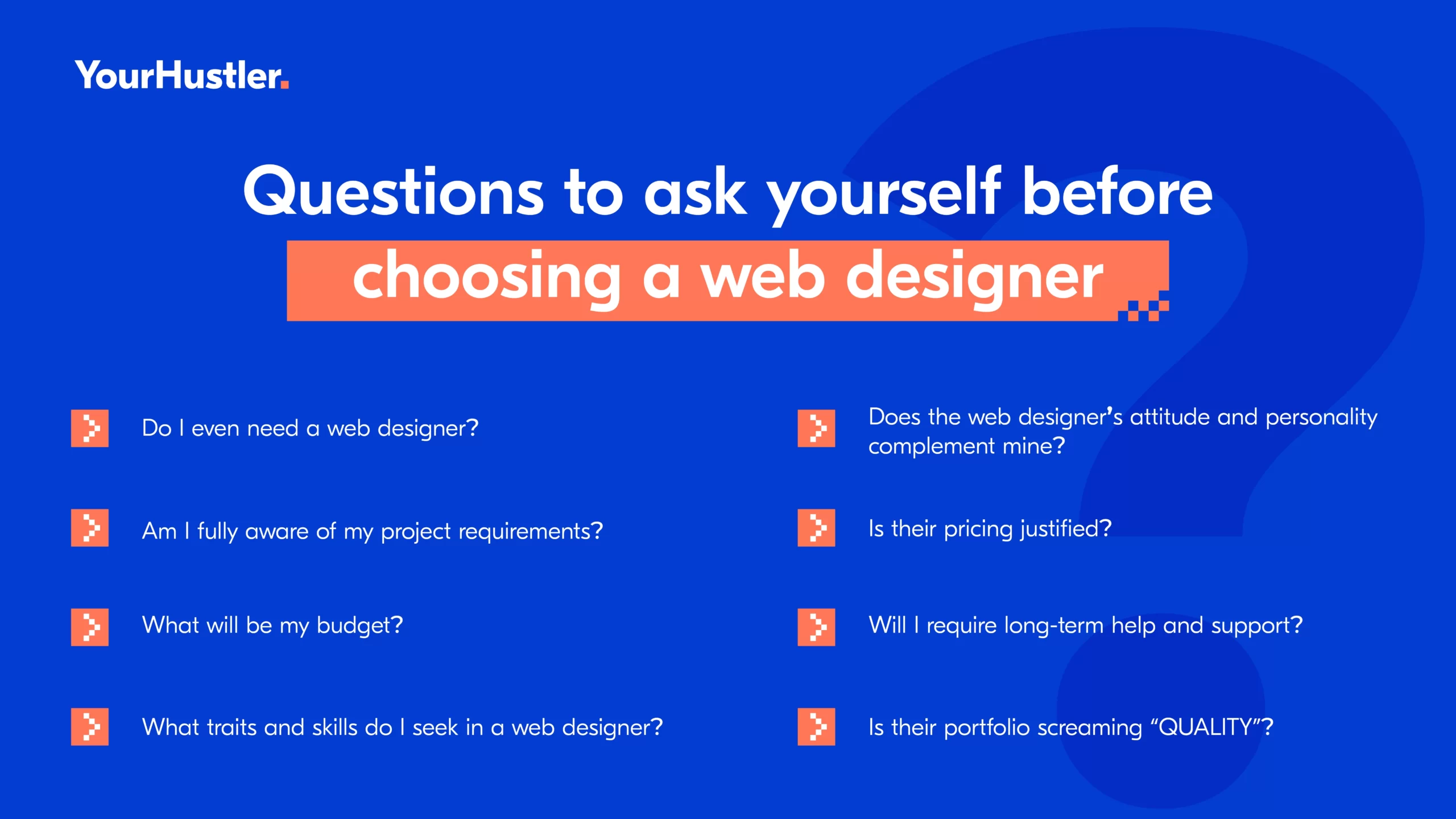 Do I even need a web designer?
I know this might come out as an odd question.
The fact that you are here reading this blog and I am writing it is enough to justify the need for choosing a web designer.
I only mentioned it to make this guide a standard for anyone who has or will have web design as their project needs or requirements.
So, do you actually require a web designer?
Understand that web design is like a vast ocean.
On the top, it looks all good and appealing. But when we go deep inside, we understand how big it can be.
It's a mixture of developing the code to set up the back-end, designing the brand logo and the website and webpages to make it look elegant and attractive, and the content which brings the brands' communication to life.
So, when would you have the requirement of hiring a web designer?
If you don't have a website yet – A web designer can help you create a website from scratch, designing the layout, functionality and overall look and feel. This is important if you want to establish an online presence.
If your current website is outdated – If your site looks dated and isn't responsive for mobile devices, a redesign by a web designer can modernize it. This helps ensure your site works well and looks professional on all devices.
If your site is difficult to navigate – A web designer can improve the information architecture and make sure key pages and navigation are intuitive. This improves user experience.
If the site doesn't reflect your brand – A web designer can ensure the look and feel of your site aligns with your brand image. This helps reinforce brand recognition and perception.
If you want to improve conversions/sales – A designer can help optimize pages like product or service pages to improve conversions. Things like clear calls-to-action and layout play a role.
If you don't have the skills – If you lack the technical skills for tasks like coding or migrating content to a new site, a web designer handles all of that seamlessly.
A skilled web designer is extremely valuable if you want a website that looks professional, functions smoothly, engages visitors, and ultimately helps you achieve your business goals through an impactful online presence.
They take care of both visual design and technical details to maximize your site's effectiveness.
Am I fully aware of my project requirements?
An extremely important question.
This can, in a way, decide whether the end product meets what you wanted.
If you yourself are not knowledgeable of the complete requirements, your envisioned website will never come to be.
This question may seem simple, but it's often overlooked.
Many clients come to us with a vague idea of what they want their website to look like, but they haven't thought about the specifics.
For example,
Do they want a static website or one that's dynamic and interactive?
Do they want a minimalist design or something more elaborate?
What color scheme should be used?
What pages should be included?
What should the user experience be like?
These are just some of the questions that need to be answered before hiring a web designer.
It's important to clearly understand your project requirements so that you can communicate them effectively to the designer.
This will ensure that the end product is exactly what you envisioned.
But how do you go about determining your project requirements?
One way is to create a detailed project brief. This should outline everything from the objectives of the website to the target audience to the desired features and functionality.
It's also a good idea to gather inspiration from other websites in your industry and create a brief to convey the look and feel you're going for.
Don't rush this process or overlook its importance.
What will be my budget?
There's a school of thought among most businesses.
It's that the budget should be based on what you need, not what you fancy or like.
Oftentimes, the latter leads to business owners overspending or being scammed in the name of quality work.
When preparing your project brief, be sure to be specific.
For example, let's say you're looking to redesign your current website or looking for a new website altogether.
Do you need a content management system (CMS)?
Do you need e-commerce functionality?
These are just a few things you should consider when preparing your project brief. Once you've identified your needs, you can set a realistic project budget. Remember to be flexible, but also stay within your means.
A couple of hundred dollars here and there shouldn't hurt you much. After all, this work will lead to a future or long-term gain, which will then be worth it, even if it stings for now.
And a good web designer will work with you to create a website that meets your needs and fits your budget.
If I were to make an estimation for you, given that you have a requirement for web design from scratch, you might want to keep your range between $3,500 and $8,000.
Be prepared for this number.
You will also get people offering this service for $500-$1000.
But those will be freelancer numbers, with low quality as they strive to meet your basic web design requirements.
So, while following the numbers I've given here is unnecessary, it will help you base your decision on logic and reasoning.
What traits and skills do I seek in a web designer?
If you have done your research in this context, you must have frequently encountered posts about technical and soft skills.
I wouldn't be discussing them here.
It's just not worth putting forth the same thing already out there.
But, while you are here, you may also check out this blog by Webflow.
Through it, you will understand the 20 web designer skills that Jeff shares with us.
Things like knowing the design principles, user experience and user interface (UX/UI), responsive design proficiency, etc., are in there.
Coming back, you need to understand that a trait is not just technical proficiency or the ability to communicate. It should imbibe the confidence that you can have on the team. Not in their ability to communicate but in how they present themselves.
But, how they manage a situation.
If they work as a team to accomplish tasks, or if every individual in the team is only limiting themselves to their roles and doesn't care about the rest, even if they know they can add value.
Understand that you are betting on the team and not on their skills.
Yes, technical and soft skills are sacrosanct. But there are other aspects as well that help you contemplate how to choose a web designer.
Does the web designer's attitude and personality complement mine?
An expanded explanation of the previous point.
Web design is a long process; you will most likely spend the next few months with this person.
You need to be sure you're working with people whom you connect with best.
Now, you would think, what is there to think here? I would go with a well-reputed agency with demonstrated experience and expertise. How does it matter?
Well, most people have this thought and decide based on it.
Rather than explaining something now, I'm sharing a screenshot of one of the most well-reputed agencies, which has been in the business for 2 decades and more.
Possibly a competitor for me, but what I wish to show here is experience and expertise is not everything. Check the screenshot of a client review below.
And this was not the only one. There are many other reviews like this for the company.
Sometimes, personality and attitude matter a bit more than skills and expertise.
So, are those, whom you have talked with,
Pleasant to communicate with?
Listening to understand and not to answer?
Prioritizing your needs before theirs?
Problem-solvers and have a never-say-no attitude?
You don't want to be hanging around with the wrong sort.
You'll experience the after-effects in the long run.
Is their expertise good enough for my project requirements?
The previous point is applicable, provided the fundamentals are in place.
If the web designer is not an expert in their field, there's no point in even continuing ahead.
So, how do you go about this?
One of the ways is to assess their portfolio and compare them with the complexity of your project.
How well did they fare?
Do they have a 100% success rate with regard to the project provided?
If not, what was the reason for the same?
This will help you gauge their capabilities and extent of output.
Next, look out for the specific skill sets the person or the team has.
Do you feel those will be enough to execute and deliver a satisfactory project?
For example, if you need a website with a strong emphasis on e-commerce, you'll want to ensure that the designer has experience in this area. Likewise, if you need a website with a complex back-end system, you'll want to ensure that the designer has the necessary coding skills.
Be sure to do your research, understand the skills you must expect from these professionals, and then take a call. You may also look at their overall experience (as a contributing factor). A web designer who has been in the industry for a long time is likely to have a wealth of knowledge and skills that can be beneficial to your project. On the other hand, a newer designer may have more cutting-edge ideas and may be more willing to take risks.
Most importantly, you need to be 100% sound about your requirements. Only then can you expect the person to deliver. If you don't communicate properly, the web designer may deliver something inaccurate or different, which in the first place, isn't their fault.
Is their pricing justified?
You have interviewed a couple of agencies/freelancers.
You get the pricing from each of them.
Now based on
Your project requirements
The industry average
Experience
Use case and
Most importantly, the value they bring to the table,
Does the pricing reflect a combination of output, accountability, and management?
You can also check
What technology do they leverage
If they have a proper communication channel
If they are experts in their respective domains
if they cover the entire scope of your project
If they have a reasonable offer that is not aggressive
There's no standard rule or a mark for price justification.
If you feel they have the capabilities to carry out the project, are pleasant and have a similar personality, and are open-minded, their pricing may be justified.
But that is for you to decide.
Will I require long-term help and support?
Be very sure of what you are looking for.
Do you want to have a one-off relationship with a web designer, where they're only obligated to build your website?
Or do you seek someone who will also continue maintaining it, ensuring growth and business?
This is situational and completely depends on how you want to take things forward.
Two scenarios-
Scenario 1: You are knowledgeable and have the manpower to handle and maintain the website efficiently
Here, you are well off with just a website built as per your requirements. You can have a conversation with the web designer and include in the T&Cs, that they provide basic guidance and training to you or your team. With that, you should be good to go and just have a website, not indulge in additional services.
Scenario 2: You are a small team and have no experience with building and maintaining websites at all
This is where you would need the help of a web designer.
You:
Don't have a big enough team
Are not knowledgeable about websites and the development process
Need a beautiful yet professional website that only experienced and expert designers are capable of
Are short on time and need someone to do this for you
There could be various other reasons.
These were possibly the ones which one would normally fit in.
Regardless of the scenario, having a backup, and that too from professionals that have proved their mettle in your industry, is crucial.
You need someone whom you can trust for their work and personality.
Also, have the confidence to call at any time (sometimes late at night as well if there's an unavoidable emergency).
Is their portfolio screaming "QUALITY"?
Portfolios are a fundamental aspect based on which you should make your decision.
If the portfolio doesn't contain samples from your industry, this could somewhere be an issue. So, keeping an eye out for portfolios that have diverse industry experience is important.
But, don't base your decision on this one factor entirely. In the end, the approach of the team and their work quality will be the differentiating factor.
The websites we provide, for example, usually have a creative touch with diverse perspectives rather than always following a certain formula just to get the work done.
While I know many would like to settle for those basic and industry-specific websites.
But unless the design is different from others and has a creative or unique touch, your website will be one among hundreds.
So, here are a few things, in a nutshell, to look out for-
Visual appeal
Look for designs that catch your eye and make you want to explore further.
Pay attention to the use of color, typography, and layout that resonates with your brand's identity and target audience.
User experience
Evaluate the portfolio for examples of clean navigation, logical information hierarchy, and clear calls to action.
This demonstrates the designer's understanding of user behavior and their ability to create user-friendly interfaces.
Mobile responsiveness
Ensure that the designer's portfolio includes examples of responsive designs that adapt seamlessly to different screen sizes, both desktop, and mobile.
This is essential in today's mobile-centric world.
Range of projects
Look for a versatile portfolio showcasing various projects, demonstrating the designer's adaptability and ability to meet diverse client needs.
Seek variety in terms of industry, design styles, and functionalities.
Follow these pointers, and you should be able to scrutinize the portfolios and understand how to choose a web designer.
Questions you need to ask the web designer
The following are questions that I encounter daily from my prospects.
While you might find other blogs on the internet having a ton more questions.
I assure you the below-mentioned ones are what you will require to start the process.
If you have come across many other questions, you can save them for subsequent conversations or maybe include some in the initial one if you feel so.
Where are you located?
The very first question that I get asked.
If you want someone to come to your office for discussions, then choosing someone local would be a good idea, but it also means you will have fewer options.
Web design is something that can be handled 100% online over a couple of video calls.
If you are not strict about working with someone locally, you will have more companies to choose from when hiring.
There are both pros and cons of both options. Let's understand.
Local agency pros:
Easier to communicate due to the same time zone
Understands local culture/preferences
Quicker to get on-site if needed
Local agency cons:
Have higher rates
Limited specialized expertise
Outsourced agency pros:
Often lower cost
Can provide 24/7 operations
Access to a global talent pool
Outsourced agency cons:
Communication barriers from different time zones
Less familiarity with local customs
Harder to meet in person
The main tradeoffs are cost versus communication/customization. An outsourced agency may provide more value if budget is a major factor, while a local agency offers better responsiveness and local knowledge. The ideal solution depends on the specific needs and priorities of the project.
But, remember, do not focus a lot on this aspect. Unless, of course, you have made up your mind to only partner with locals.
Have you worked for someone from the same industry as me?
Oh yes. This is a must-ask.
You need to be sure that the person you work with has the right experience in your industry.
You need to ensure the web designer knows about your industry, the best practices and norms, and keeps up with it.
Just building a website for an FMCG company doesn't make you a professional in that industry.
So, look for the answer that resonates with your industry's brand positioning, mindset, pain points, and a few other pointers.
Hiring someone who has worked in the same industry before is always good, as you do not have to hold their hands on everything.
However, you need to focus more on their web design approach and quality of work.
You will be amazed to find designers who would do a better job than designers who have worked before in your industry.
Do you have a portfolio for me to assess your work?
Don't forget to have a look at the ones which are not from your industry too.
While your primary choice would be to have someone who has worked in your industry.
But this can backfire in a sense. Suppose you want a website made for a clothing brand. Now, the team you have partnered with has experience only in the clothing side.
This will lead to a cookie-cutter website that has no differentiation whatsoever.
Just like 50 other clothing brand websites.
Poof. Lost in the crowd.
So, along with your industry, thoroughly check for how well they perform in other industries to bring a new set of design approaches to your work.
Check for other aspects well. Such as
Is the navigation simple?
Is responsive design and mobile-friendliness implemented?
Is the content relevant, and is the text easy to read?
Are the aesthetics and visual appeal of the website spot on?
Their attention to detail. Like micro-interactions, hover effects, or animations.
Remember that the work approach and quality should always be your priority when judging an agency.
Where will my website be hosted?
One of my favorite questions.
I advise all my prospects and clients to have this question on their must-ask list.
It should be a PRIORITY!
Ask them if your website will be hosted on their server or if they require you to buy a server and have them host it.
Pro tip: ALWAYS buy your own server and give the web designer access internally to do the development.
It is never a good idea to let someone else have control of your website.
Precaution is any day better than cure.
Can I contact your present and past clients?
Yes, this could be a great thing to do.
Check if they are confident enough to share all details with you which they can.
More than the confidence, actually do a thorough check by contacting their previous and current clients.
See what they have to say about the agency.
A reputed, well-disciplined, and ethical team should be more than happy to help you with this.
After all, who wouldn't want to grab this opportunity of bragging about their work by using their present and past clients as real-work experience?
I would.
How many members are there in your team?
Are they a freelancer or is it a multiple-member team (like an agency)?
Speaking of freelancers, they are a one-man show.
They do the development, design, content writing, and project management all themselves.
Additionally, they have multiple clients with them.
So, do you believe they can give your project the attention you want them to give?
Do you feel they have the superpowers to be an expert in all the fields and give you a top-tier website while managing their other clients?
Now, coming to an agency where there are multiple clients.
But multiple designers, developers, copywriters, and account managers handle clients and provide them with individual attention and care.
You receive the best of all sides as in a dedicated-
Developer to code and build your website
Designer to work on the aesthetics and visual appeal
Copywriter to make your communication flawless and induce the target audience's attention
Account/project manager to liaise with you and be the bridge between you and the team
The choice is yours, but by default, you must ask them this.
This opens room for a lot of communication.
Will I get a dedicated account manager?
Many agencies would have the option of providing you with a dedicated account manager.
But why?
Best to explain with a scenario.
You sign up with an agency without asking this question.
You guys start working. There comes a time when you start having some issues with the work and deadlines.
So, you want to talk with the team about this.
None of them give you a proper response. And some even try to ignore you deliberately. Or might even pass you to another person for the answer.
What do you do?
How do you work on this?
This is where an account manager steps in. They become the person that fills this gap and ensures work is on track.
And if there are issues, they make sure it's attended to and the solution has been provided to you.
Without a dedicated account manager, consider the chances of productive and effective communication being close to zero, no matter how well an agency brags about its work process and communication channels.
Pros of a dedicated account manager: a single point of contact, accountability, and personalized service.
Ensure the team you work with has a dedicated account manager assigned to you and is committed.
How much will the service cost?
Sticker shock got you sweating?
I feel you.
A new website can cost anywhere from $2,000 to $150,000!
But don't freak out yet.
Many professional-looking sites cost $3,500-$8,000. Basic brochure sites run $1,000-$3,000.
And eCommerce sites start at around $6,000. The price depends on things like custom designs vs templates, the number of pages, special features, and hosting.
Shop around and get multiple quotes.
Compare apples to apples. Ask what's included and not.
If you are comparing a freelancer and an agency, there could be
Do your homework to get the best value. Review portfolios and testimonials.
Ask about additional charges for revisions.
Clearly define project specs upfront.
Investing in a quality website delivers ROI many times over. But overpaying wastes money.
Find the sweet spot between bare bones and budget buster.
"The Process" (For Choosing a Web Designer)
What I have given you in the previous sections is the questions you must ask yourself before going for the hiring process and the questions you must ask the web designer while you interview them.
But, in this section, I'll put forth the entire process you can follow on how to choose a web designer. Let's get started.
Lay Down Your Technological Requirements
The type of designer you need depends heavily on the functionality and technology requirements of your site.
First, you must clearly define your website's goals and capabilities.
Do you simply need a basic "brochure" site to display information and contact details?
Or do you need a site with complex functionality like ecommerce, databases, user logins, etc?
If a simple informational site is sufficient, a graphic designer focused on branding and user experience may be ideal. They design the overall look and feel in programs like Photoshop. Then they would work with a front-end web developer to implement the designs in HTML/CSS.
For complex functionality, you will need a developer skilled in back-end technologies like PHP, MySQL, APIs, etc. Back-end skills allow seamless integration of databases, payment systems, subscriptions, and other dynamic features.
Often, a middle ground is ideal – someone knowledgeable in both design and development. Many web design agencies provide a full spectrum of skills. They can also build sites on content management platforms like WordPress, which have built-in core functions that can speed up development.
When evaluating designers, think carefully about both your current website needs and future growth plans.
Will you need to frequently edit and manage content?
Will users need to interact and work within the site?
Avoid using vague concepts and focus on concrete goals and must-have capabilities.
For example, an ecommerce site requires very different skills than a basic nonprofit site. The designer must deeply understand your specific goals. An experienced designer can provide flexibility but also make sure the site is built on technology appropriate for your needs.
The key is finding a designer who listens to your specific goals, asks the right questions, and makes technology recommendations tailored to your current and future needs. With the right strategic partnership, you'll avoid pitfalls and build a site that can grow with you over the long term.
Clearly Outline Your Design Expectations
When starting a website design project, one of the most important steps is clearly defining your design needs and preferences. Being as specific as possible will help you end up with a website design you truly love.
Provide Examples
Collect screenshots or links of websites you find visually appealing. Make note of what you like about each one – the color scheme, fonts, layout, etc. Providing these concrete examples gives designers insight into your aesthetic taste and desired look and feel.
Articulate Your Vision
Describe in words the overall visual style, mood, and impression you want your website to convey. Adjectives like "modern," "sleek," or "whimsical" can be helpful, but the more details the better. Specify any must-have elements like photos, videos, animations, or illustrations.
Share Brand Assets
If you already have a logo, brand guidelines, product photos, or other visual assets, share these with potential designers. This gives them a jump start in bringing your brand identity to life online.
Voice Frustrations
Explain any pet peeves you have about existing website designs in your industry. This helps designers avoid common pitfalls and meet your unique needs.
Define Priorities
Be clear about which elements are non-negotiable vs. nice-to-have. If budget constraints come up, know ahead of time what you're willing to cut vs. what you want to prioritize or splurge on.
Consider DIY Options
You may be able to create some assets yourself or via affordable freelancers. For example, have a photographer do a brand photoshoot, use AI logo generators, or hire an illustrator on Fiverr for custom graphics. This gives the designer helpful raw materials to work with.
Find a Collaborative Designer
Look for a designer who asks thoughtful questions, provides feedback on the achievability of your wishes, and has a clear design process. You want someone who will collaborate closely with you through every stage, not just hand you a finished product. The right designer-client relationship leads to better results for both of you.
Defining your design needs upfront establishes alignment, sets proper expectations, and ultimately leads to a website you truly love – and a smooth design process getting there.
Defining Your Website Goals
It's crucial to clearly define your business objectives for your website. This process will shape key decisions around design, features, and budget.
Start by thinking about your website's role in acquiring new customers. Is it primarily an online brochure to complement your sales process? Or will it be the main driver of new leads through organic search and traffic?
Next, consider long-term business goals that could impact your website.
Do you envision integrating it with inventory systems or other software?
Are you interested in marketing automation down the road?
Knowing these growth plans will help ensure your site can scale with your business.
Here are some tips for this planning process:
Look beyond immediate needs and consider the next 3-5 years. Building with growth in mind now prevents costly rebuilds later.
Factor in all digital assets like domain names, email, and branding. A cohesive online presence should align with your website.
Estimate the website's potential ROI. How many new leads could it generate and what is each one worth to your business? This will help justify the right investment.
Pitfalls to avoid:
Overcomplicating with unnecessary features. Start lean and add complexity over time.
Viewing the website as an expense. It's a revenue-generating business investment.
Choosing a designer unfamiliar with integration and scalability needs.
Going for a quick "band-aid" solution. This leads to rebuilding down the road.
The right approach aligns your website with clear business objectives.
For a local shop, an informational brochure site may suffice initially.
But a law firm looking to add client portals and content marketing is better served investing in a custom, scalable website.
Keep the long view in mind when outlining your goals.
Arriving at the Right Budget for Your Website Project
Next, we come to defining your budget. But simply saying "as cheap as possible" isn't helpful – a quality website is an investment, not a cost center. Approach it like you would any other business investment, with an eye toward maximizing returns.
First, realistically assess your current cash flow situation. How much can you devote to this project right now? Then, look at the potential value a new website could bring your business. Ask yourself:
What is a new lead or sale worth to me?
How much revenue am I missing out on with my current site?
This will help you set a smart budget that is proportional to the expected payoff.
Next, prioritize the must-have features, functionality, and design elements for your site. Focus on the things that will have the biggest impact on achieving your business goals. You likely won't be able to have every bell and whistle, so decide what's critical.
When setting your budget, think long-term. Websites need ongoing maintenance and updates, so factor in costs beyond the initial build. Will you need to pay a designer for ongoing work? Or can you maintain it in-house? Your budget must cover the full lifetime of the site.
Finally, think about scope. Determine what is absolutely essential to launch your site. Then, document what features could wait until a "Phase 2" or be added later. This will help you work within your budget constraints.
The key is tying your budget directly to the scope and expected ROI. And remember—websites can always evolve. Start with a solid foundation that supports your critical business goals. The rest can come later. With the right strategic plan, you can get an effective site, even on a limited budget.
Finding the Right Web Designer for You
Choosing a web designer can feel overwhelming. You want someone talented who understands your business and goals. Where do you start?
Here are my top tips for finding the perfect web design partner:
Think local first. A local designer can meet with you in person, understand your community, and be there if you need on-site help. Look for local web design meetups and events to network. Ask neighborhood businesses for referrals.
Search for WordPress experts. WordPress is user-friendly and versatile. But not all "WordPress designers" truly understand it. Attend local WordPress meetups and WordCamp events. Check WordPress.org forums. Search for "WordPress web design" on Google using advanced operators.
Consider niche platforms. Shopify, Wix, and Squarespace designers specialize in those platforms. Dig into their support forums and expert networks to find stand-out designers. Fiverr is a good source too.
Go global. REMOTE work opens up options worldwide. But communication is key. Dribbble and Github showcase cutting-edge designers. Upwork and Fiverr let you test out multiple designers.
Define your priorities. Do you want the cheapest option or a designer invested in your long-term success? Set expectations upfront around communication, revisions, and scope.
Check portfolios and reviews. Any good designer should share case studies and reviews. Make sure their style and past work fit your brand.
Start small. If possible, do a minor test project first before committing to a full website build. This lets you evaluate work quality.
Finding the right designer takes effort but pays off hugely. The perfect partner understands both web design and your unique business needs. Follow these tips to find someone exceptional who can bring your digital presence to life.
Crafting the Perfect Proposal Request
You've narrowed down your list of potential web designers. Now it's time to send out proposal requests to get accurate estimates and find the right fit.
The key is crafting a detailed yet concise proposal request that provides designers with sufficient context without overwhelming them. Here are some tips:
Keep it Conversational
Imagine you're a designer receiving this request. Would a casual, conversational tone make you more inclined to respond? Open with a friendly introduction and explain why you're seeking a new website.
Share Key Project Details Upfront
Provide vital information like your budget range, timeline, business/site goals, and must-have features. This allows designers to self-select if the project aligns with their expertise and availability.
Focus on Needs Rather Than Solutions
Rather than prescribing specific technologies, share the problems you're trying to solve. This gives designers the flexibility to suggest solutions tailored to your goals.
Pose a Clear Call to Action
Close your request with a specific next step, like asking if they're interested and available for the project. Provide a timeframe for responding to streamline the process.
What to Avoid
Don't bombard designers with excessive details upfront. Don't make vague requests without indicating you're ready to move forward. And don't contact designers if you have no real intention of hiring.
With a thoughtful proposal request, you'll get qualified responses without wasting anyone's time. Focus on creating an engaging narrative about your business needs and vision. The right designer match will become evident through the proposal process.
Ask For Portfolios and Share Important Questions
Choosing the right web designer is like finding a good partner – you need to make sure your communication styles mesh well. After reviewing proposals, have a conversation with your top candidates. This follow-up chat is your chance to get a feel for how they'll be to work with long-term.
Pay attention to how responsive, articulate, and interested they are in understanding your needs.
Do they ask thoughtful questions about your goals and priorities?
Good designers won't just take orders – they'll collaborate with you to create solutions.
Avoid overwhelming them with too many questions or demanding they conform to your ideal process. The goal is to find someone who complements your strengths and fills in gaps, not just follows orders. Let the dialogue flow naturally so you both can determine if you'll work well together.
Consider asking for examples of their work and past client references. This will give you insight into their design skills and work style. Most importantly, trust your gut. Finding the right web partner is like any relationship – when it clicks, you'll know.
Discuss the Contract
Now it's time to make sure you and your new designer are on the same page before the real work begins.
My advice?
Get it in writing.
A clearly written contract lays out everything each party is responsible for. It should cover the project scope, timeline, costs, and intellectual property rights. This protects both of you if there are disputes down the road.
A project plan is also invaluable. It outlines all the milestones and who is accountable for each task. With a plan, there won't be confusion about expectations or deadlines.
Speaking of communication, don't leave those other designers hanging. Send them a polite email thanking them for their time and letting them know you went a different direction. Tying up loose ends demonstrates professionalism and respect. Who knows, you may want to work with them in the future.
Putting agreements in writing upfront fosters transparency and trust between the client and the designer. It's an important step, but it also gets everyone aligned and enthusiastic about diving into the real work – bringing your website vision to life.
Have a Crystal Clear Communication
Once you've selected your dream designer, don't just hand over the reins and hope for the best. This website will be your baby, so stay actively involved throughout the entire creation process.
Make sure you understand all the technical mumbo jumbo – ask questions if anything is unclear. And keep copies of all design docs and details for your records.
Remember, website design takes time and money. Be prepared for additional costs like photography or tech troubleshooting. Discuss timelines and budget upfront to avoid frustration later.
Resist the urge to bombard your designer with constant changes and micro-managing. Trust their expertise. However, do provide prompt feedback when they request it.
Follow up every call or meeting with written recaps. Emails prevent misunderstandings down the road.
Stay friendly, flexible and focused on open communication. With teamwork, you and your designer will birth a beautiful, functional website baby you'll both be proud of.
I have laid down all the fundamentals for you to grab and begin the journey of choosing your ideal web designer.
Along with that, since I run an agency, I would like to share what are the qualities you must look for when choosing a web design agency and what are the benefits of partnering up with one (just like Your Hustler).
Qualities to look out for when choosing a web design company
How to choose a web design company (if you have decided to go with one)?
A fundamental question that most small businesses search for.
More prominently, those who are on the verge of going the digital way.
Below are some qualities to look out for that may answer the above question.
Do they possess the required industry experience?
You want to partner with a team that understands your specific niche and has experience designing websites for businesses like yours.
This expertise goes beyond technical skills.
It involves deeply understanding your target audience's needs and online behavior.
Furthermore, an agency with industry expertise will better compete with your competitors.
They can analyze their strategies, identify gaps, and help you differentiate yourself.
So, industry expertise is an important element when considering a web design agency.
This will ensure that you partner with a team that speaks your language and brings a wealth of experience to the table, ultimately resulting in a website that truly resonates with your target audience.
But there's something that goes above and beyond industry experience, too.
And that's quality.
Focus on a team with a good web design process and one that pays more attention to quality than one with just the expertise in your industry.
Have an open mind when deciding on this.
How flexible are they?
Flexibility is a quality not everyone can possess.
Your business is unique, and your website should reflect that.
You want to work with an adaptable agency that can cater to your specific requirements and preferences.
A flexible team won't be afraid of change.
They welcome your feedback and are willing to make adjustments along the way. They understand that new ideas and opportunities may arise as you see your website taking shape.
They are open to incorporating these changes to ensure your website evolves into something that surpasses your expectations.
What should they do?
The agency should be able to work with various content management systems (CMS) and e-commerce platforms, allowing you to choose the best fit for your business.
They should also be proficient in responsive design, ensuring that your website looks and functions flawlessly across different devices and screen sizes.
If this is a green tick, you have a partner who is dedicated to turning your vision into a reality, providing a website that not only meets your current needs but also grows and adapts as your business evolves.
Do they possess strong work ethics?
Is the team committed to delivering high-quality results on time and operates with a strong sense of professionalism?
Do they take accountability for their actions, both good and bad?
Are they approachable, and do they prioritize your project and communication?
A team with a strong work ethic believes in clear and transparent communication.
They proactively provide project updates, address your concerns, and seek feedback.
They listen attentively to your ideas and ensure their design choices align with your vision and brand guidelines.
Furthermore, such a web design agency will know the importance of collaboration.
They see the client-agency relationship as a partnership where both parties contribute their expertise to achieve the best possible outcome.
They are receptive to your input and encourage an open exchange of ideas throughout the design process.
Without a strong work ethic, your website will be in ruins if it goes into the hands of the wrong person.
How creative are they?
Do they follow the same old tried and tested formula?
Or are they ready to break the shackles of the known and go beyond the ordinary?
A truly creative team will always immerse themselves in your brand.
They take the time to understand your story, values, and target audience.
With this foundation, they can develop a design concept that embodies the essence of your brand, making a lasting impression on your visitors.
They are up to date with the latest design trends and technologies.
They know what works and what doesn't in the digital scene and use this knowledge to create a visually stunning, functional, and user-friendly website.
Excellent communication skills
You need someone who understands the importance of clear and open lines of communication throughout the design process.
Imagine partnering with a web design agency that truly listens to you.
They take the time to understand your goals, target audience, and design preferences.
They ask thoughtful questions to gain insights into your business, ensuring that their design choices align with your vision.
A web design agency with excellent communication skills keeps you informed every step of the way.
They provide regular project updates, seeking your feedback and addressing any concerns promptly. They understand your input is invaluable in creating a website meeting your expectations.
Such people will always explain complex technical concepts in a way that is easy to understand.
They value transparency and ensure you know the design process, timeline, and any potential challenges or trade-offs.
Benefits of choosing a web design company
Why should you consider an agency when you can either do it yourself or have a freelancer do it at a fraction of the cost of an agency?
This indirectly conveys some points to analyze, which help you decide on how to choose a web design company.
Let's understand.
They save you the could-be-lost time
Imagine skipping the headaches of coding and troubleshooting.
How could you better spend your time?
What if you could focus on growing your business, exploring new opportunities, or even taking a well-deserved break?
Keep DIY aside. If you choose to go with a freelancer, things do not go as planned.
What would you do?
While that person might make the website for you for $2000 or less.
But do you think they're an expert in all aspects, such as content, design, and development, to build a website that gives competition to the top ones on Google?
You never have to worry about any online business process or your website with an agency.
The team handles everything right from the discovery stage through the launch.
With an agency, you only focus on your core business operations.
Even an hour that you save, you can utilize towards other branding and marketing activities at your end.
They make you come out as a reliable brand
Picture a website that never fails your customers.
No more embarrassing error messages or downtime.
With a reliable website, your online presence becomes a dependable ally, always available to serve your visitors.
How does it feel to know your business is open 24/7 without a hitch?
That's what an agency can do for you.
A dedicated team of developers works rigorously (sometimes in shifts) to ensure your site is up and working.
You don't want to give your target audience a single reason to go elsewhere. And an agency can help you achieve this.
Whether you're an eCommerce store or a personal brand, once you're on top of your game, your leads and prospects will notice the difference, and your name will then become an authority.
Just think, how would visitors perceive businesses with outdated, amateurish websites?
They churn out responsive and niche-specific designs
Responsive design is crucial as they adapt to different screen sizes.
It ensures an optimal user experience on smartphones, tablets, and desktops.
Niche-specific designs, on the other hand, cater to the unique needs and aesthetics of specific industries or target audiences.
A web design agency helps you with this by first understanding your business goals, target audience, and industry trends.
They then create a personalized design strategy that aligns with your brand and engages your customers.
One good example of this is the modal web design approach. Modal design helps your brand communicate important messages on a pop-up-like window, ensuring the visitor finds it easily. Prominent applications of modal web design include sign-up forms, premium subscription forms for newsletters, and more.
Coming back, the agency ensures that the website looks visually appealing and functions seamlessly across devices, ultimately enhancing user satisfaction and conversion rates.
Have you ever had a website that didn't look good on your phone?
How important is it for your website to stand out in your industry?
Imagine the attention your website would garner and its positive impact on your target audience.
They make sure speed is never an issue
Speed matters.
With a lightning-fast website, you'll capture the attention of impatient visitors and keep them engaged.
What if your website loaded instantly, delivering a seamless browsing experience?
How many potential customers have you lost due to slow loading times?
Just so you know, research has shown that just a one-second delay in page load time can result in a 7% reduction in conversions.
This is where an agency, a team can help.
Since the developers work in a team and keep a thorough test in check, any website-related issue that impacts the speed is something that you will hardly encounter here.
They optimize your website to rank better on Google
How many potential customers are searching for products or services like yours?
Can you afford to be invisible?
These questions will automatically help you understand the seriousness of the situation.
Just imagine your website ranking high on search engine results, attracting steady organic traffic.
And the best part, you don't have to do a thing.
The agency, having a set of SEO experts on their team, does everything for you.
They take care of all the technicals, help you set up your Google listing for trust and credibility, and have much higher rankings.
I doubt you will ever come across a freelancer who can develop, design, write, optimize for Google, manage the project, and deliver on time.
They turn your investment into a profit
I will explain this with an example.
Imagine you run a small online boutique selling handmade jewelry.
Currently, your website is basic and lacks the professional touch it deserves.
Visitors may find it difficult to navigate, the product images are of mediocre quality, and the overall design fails to capture the essence of your unique brand.
Now, envision you signing up with a reputed agency with adequate expertise and experience in your industry as well.
With a team of skilled designers, your website undergoes a complete makeover.
The new design showcases your stunning jewelry pieces with high-resolution images, highlighting their intricate details and craftsmanship.
The user interface becomes intuitive and seamless, making it effortless for visitors to browse and purchase.
As a result, your conversion rates soar.
Visitors now spend more time exploring your website, captivated by its visually appealing layout. The improved user experience instills confidence and trust in potential customers, increasing online sales.
But the impact doesn't stop there. Your new website is SEO-optimized, meaning it ranks higher on search engine results for relevant keywords.
This drives organic traffic to your site, attracting even more potential customers actively seeking your products.
With increased visibility and improved user experience, your business gains a competitive edge in the market. Satisfied customers recommend your website to friends and family, leading to word-of-mouth referrals and further expansion of your customer base.
This is the power of partnering up with the right kind of people. If you interview a company and they get all green ticks on the above points, know that you have received your answer to how to choose a web design agency.
Is Your Hustler your type?
This is something for you to decide.
But, regardless, for both of us, without having a conversation, neither you nor I would be able to make a comment on this.
But, I would like to give you a brief description of my company.
Your Hustler is a full-service marketing agency specializing in website design, SEO, digital marketing, and branding.
We have been in the business for almost 9 years, and in this time, we have developed websites and actually built online businesses from scratch.
My team consists of
Developers
UI/UX designers
Copywriters and content writers
SEO specialists
Account managers
Email marketers
Business development managers
And, of course, me.
I will not give any sort of "why should you choose me" explanation.
Because this is something that you will understand best when we have a conversation.
So, if you have any sort of website requirements, feel free to reach out to me.
I can assure you regardless of the outcome of the meeting, you will leave satisfied having attended the call.
But, I hope this guide did complete justice to your search on how to choose a web designer.